Empire Requires Military Strength:
An empire is a system of subjugation in which the imperial nation occupies, colonizes or controls the international & domestic policies of other peoples and their countries. Because most people do not welcome occupiers or accept subjugation without resistance, the imprial nation must maintain an intimidating presence. If The USA was an Empire like ancient Rome it would require a massive military presence to hold it all together.
Does The USA maintain such a military stronghold on any single region or regions? What about the myth of spreading democracy & freedom?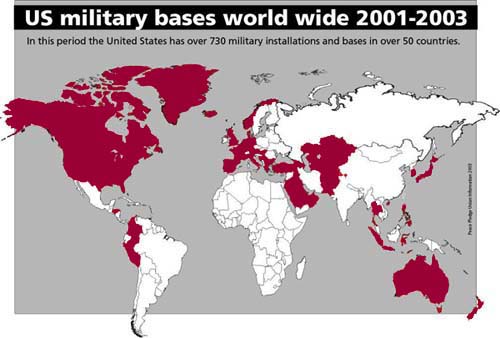 The nature of our American Empire does not follow the model of empires past. We have largely avoided an empire of colonies like that of The British. Instead we use our military might to enlarge and maintain an economic empire with the intention of grabbing up all the resources necessary to keep our nations corporate power structure in a position of capitalist domination. It's the mentality of "he who has the most toys wins" and we intervene any where and in any way we think necessary to continuously feed our nations greed & glutony.
Rather than repeat the facts that have already been so well documened by others I will stop now and direct you to the links below. If you are really curious and really want to know the truth about your nations history I encourage you to look further. Perhaps the small sampling below will be an intriguing start.
Click, Read & Become Educated: